Product: RCS Catering Software

Price: $129/month
Trial: 30 day FREE Trial
Rating: 9/10
Restaurant Catering Systems Description
Today I wanted to tell you why this is truly the best catering software for small business. We have used Restaurant Catering Systems since 2012 and ever since our catering operation has been soaring!
This software has everything you need for customer relationship management, online ordering, accounting and marketing. RCS is easy to use and your staff will love it.
Customer Relationship Management
The customer relationship module in this software is excellent. When you first click on a customer's profile you get a quick snapshot including items like:
Contact info
The date they first ordered
The date of their most recent order
How many times they have ordered
Lifetime sales
Highlighted notes for the customer

There are a number of other options you can edit as well, many having to deal with their marketing module which I will get into later. Besides the quick stats, there is also a row of shortcut icons so you can quickly access areas like:
Customer notes
Customer To-Do list
Schedule phone calls, mail, meetings or events
View orders
View quotes
View invoices
View credit cards
View deposits
View saved delivery addresses
This software can really store all the information you would need for any given customer.  Being able to schedule reminders for the customer is crucial, especially as you start to grow. This is a big help in staying organized with all of your catering orders.
Another feature I like about this software is you can assign customers to groups or if they belong to a company you can enter their industry information and company size. This comes in handy for their marketing module.
Navigating to a customer's profile is a breeze as well. Simply start typing the customers name, email or company name in the search bar and the results will pre-populate as you type. This allows you to find a customer in just seconds while you are talking with them on the phone.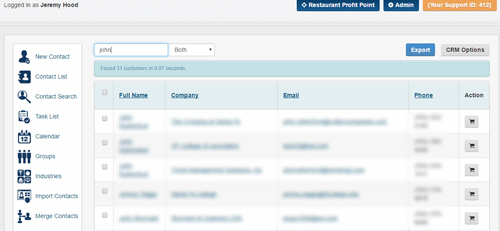 You also have the ability to import contacts from an excel file which will be useful as you start to build your database.
If you have not used software before to organize your contacts you will be so glad you started once you see how well this keeps everything organized. If you currently use software now and are looking for a change I encourage you to sign up for their free trial and see how easy it is to use for yourself.
Online Ordering
There are two parts to the online order feature of the software. One is for your customers and one is for you or your staff.
I cannot tell you how many times a customer would call before we started using this software and ask "can we get the same order as last time?" What do you think our response was? "Sure, can you remind me what that was?"
Being able to instantly view previous orders for a customer was a lifesaver. It also makes your level of appearance seem much more professional. Within just a couple months we started getting compliments about how organized we were.
If they only knew!
Entering in a new order can be done in less than 60 seconds. Simply click on "start new order" link in the customer's profile and it will take you to the order entry screen.
From there you can fill in the event details, time, date, address, whether it is a full service catering or self service catering. Then to enter menu items simple start typing what they are called and you will see the options start pre-populating. Once you have an item selected you can make any additional option choices you need to and update the quantity.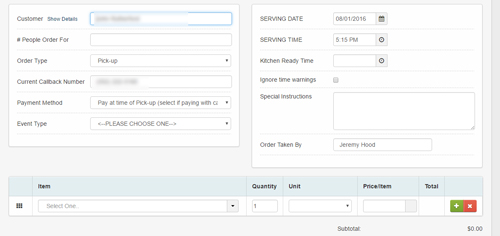 When you have entered all the details you can either place the order or create a quote. You also have the option to automatically send the customer a confirmation when you place the order.
Once you place the order and have your catering software setup properly you will have access to a bunch of information just from the order confirmation screen. There is a drop down on the actual order with links to:
Place the order again (for when you get those calls I mentioned above!)
Print the order
Print a catering ticket for the customers (looks nicer and has your logo vs. printing the order)
Get delivery directions
Supplier Report (you can setup inventory items to tell you how much you need to product you need to get for this order)
Food prep report (tells your kitchen staff quantities of food for the order)
Show credit card info (by default this info is encrypted)
Edit the order
Schedule reminders
View Invoice (will show any payments made and remaining balance)
Once you have your software setup correctly, you will everything you need to produce the order in about 60 seconds. Imagine if you had to calculate the items above by hand for every order…Did I mention I think this is the best catering software for small business?
RCS also has a calendar view so you can quickly see what you have coming up.  The calendar is color coded so you quickly decipher what are actual orders, which ones are quotes and which are notifications (follow up reminders, notes, etc.)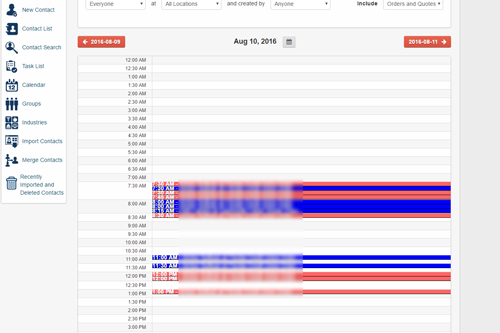 There are several filters and preference choices as well so you can really get a good look at exactly what you want. You can also drill down by week or day to see even more detail on busier days/weeks.
Another useful tool is the Overview page, which is the default landing page when you sign in. It defaults to the current week and quickly shows the orders you coming up with most of the details for that order.
One thing Chris and I like to do is subtotal the orders for the current year by sales rep so we can see who's booked more sales! We are rooting for the company overall to book caterings but this is still a fun, harmless way to compete.
Online Ordering for Customers
Your customers will not see all the bells and whistles that you have access to but they will be able to place their own orders nonetheless.
They will be able to login with their email and create their own password. From their, they can place new orders from your menu as well as view past orders and place them again.
You can add pictures to menu items which is a nice touch. You can also create upsell items for certain menu items.
For example, whenever a customer orders one of our family packs online when they click to check out it asks them if they would like to add paper packs to their orders. These all add up!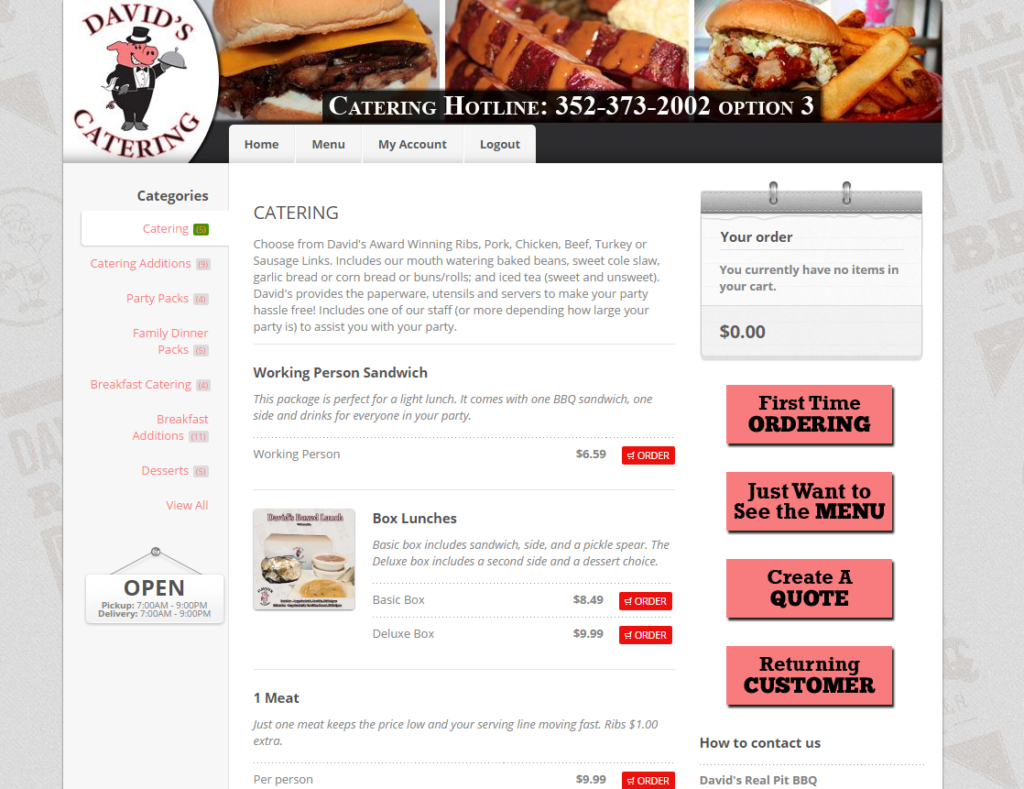 The view is also a different view then what you see in the admin section. It is more branded with your logos and pictures of your food.
Customers can also simply login and view the menu or create quotes. Anytime a customer places an order or quote you instantly get an email in your inbox of the order. This way you won't miss any that come thru.
We don't have a ton of customers that use the online orders but the ones who do love it. They know what they want and don't have to pick up a phone.
One of our most important customers like to use it…she keeps us busy and puts all the orders in herself!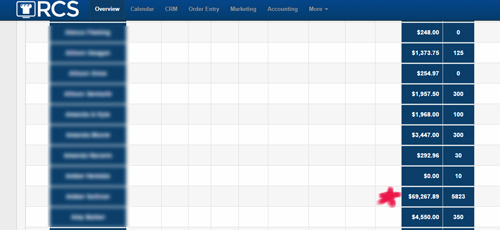 Accounting with RCS
Another added bonus to the RCS software is the accounting module. You can setup each customer to have a house account.
You can also setup each order from a house account to automatically create invoices. Your bookkeeper will love you now that you can quickly go back through last week's or last month's order and see who still owes you money.
You can also track deposits or payments on orders. We use this feature a lot when we book weddings 6 or 12 months out. The systems will keep track of the dates, amounts and payment types of any deposits made leading up to the event.
Marketing with RCS
Last but certainly not least I wanted to talk about the marketing module in RCS. You will instantly improve your operations with the CRM and online ordering features but this is what makes RCS the best catering software for small business.
The marketing module is going to help you grow your sales and many of these features will be on autopilot!
The support team will use your logos and pictures and design direct mail pieces that go out to your customers automatically. All you do is pay for postage and printing for each piece.
Included in their module are:
Loyalty/referral program (all you have to do is activate customers, RCS calculates the return and automatically mails out gift certificates once the bonus reaches the set threshold determined by you)
Thank you campaign (automatically sends thank you letters with your signatures asking for feedback)
Customer reactivation (I really like this one, if a customer doesn't order for a set period of time they will automatically receive coupons for their next order)
Lighthearted lunches postcard (if you don't feel like creating your own postcards to stay in front of your database this is a good option)
Postcard campaigns (can create your own campaign and upload your own images)
Email Marketing (write and send your own emails to your contacts)
Four Step Prospecting Campaign (the bread and butter)
I wanted to talk about this last module in more detail. They call it "Sales Tempo", it is a pretty neat feature. As you start marketing your catering one of the things you will need to do is lead generation.
One of the ways they teach is to buy a list of potential business in your area. Call them and find out how many times they order and how frequently. This will give you potential catering customers that you can import into the sales tempo module.
The system will do all of the following until the customer responds to your offer and you take them out of sales tempo:
Send out 3 postcards in 2 week increments
Schedule a follow up phone call 7 days after the last postcard has been sent
Schedule a reminder to connect with the customer on LinkedIn 7 days after the phone
Schedule a cookie drop 7 days after you connect with them on LinkedIn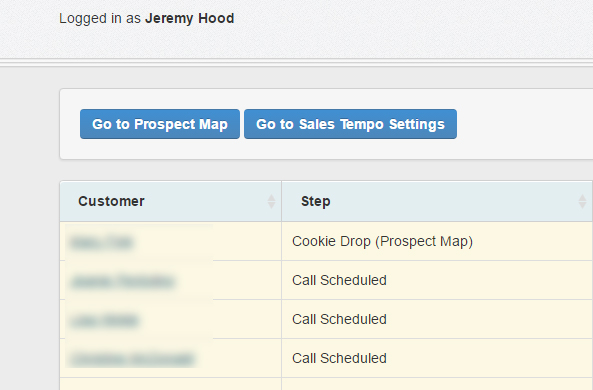 There is a reason they call this sales tempo. The quicker you can work through your list the more benefit you will see from this program.
The best way to get new customers is to let them try your product for free. You won't convert all of these prospects into lifelong customers but I guarantee you will do a lot better than placing a radio or TV ad and then wait for your phone to ring.
If you sign up for their premium level you will also gain access to a website called Restaurant Profit Point. This website has hundreds of ideas for postcards, flyers, and other marketing campaigns.
It is well worth the additional payment, we have used many ideas from this website over and over again. It also takes the guesswork out of trying to always come up with fresh content.
Restaurant Catering Systems Cons
I didn't write a "pros" section as I see all of the items I mentioned in the description as a plus. There isn't really much included in the software that we don't use. Besides a report here and there we pretty much use all of the features that come with this software so I feel like it is fairly priced for what you get out of it.
That being said, in the beginning it can feel like information overload. It did for us as well, but you just have to start with one item at a time. Work it for a few weeks or a month, when it becomes a habit add something new to the mix.
Start with mastering the CRM and online ordering features. Let the RCS support team setup the automatic marketing pieces. Then as you get more comfortable and the pace starts to slow down you can start implementing the other marketing modules.
When you are really ready to take it up a notch I recommend diving head first into the sales tempo module. This will really help you spread the word about your catering services.
Conclusion
Besides being a little overwhelming at first, I can't think of many other cons for this software. It keeps you more organized, provides a better experience for your customers, helps you promote your catering and helps you keep track of the money.
It is for these reasons I truly believe this is the best catering software for small business. Are you customer of RCS? Let me know if you agree in the comments below!