Wedding Caterings have taken our catering operation to exponential growth!  A big part of booking this wedding business is by offering wedding food and menu tastings.
What should you expect during these catering food tastings?
Doing these tastings gives us the chance to:
Meet the client
The client the chance to meet us
Learn about their special day
The needs they have
Discuss & show linen samples, place settings, and of course they get to try out our delicious product.
This is the very best opportunity to put your best foot forward and make a great impression.  For us, this is our best selling tool.  We have above a 90% closing rate by doing these, more than 9 out of every 10 couples we meet with book with us due to these consultations and menu tastings.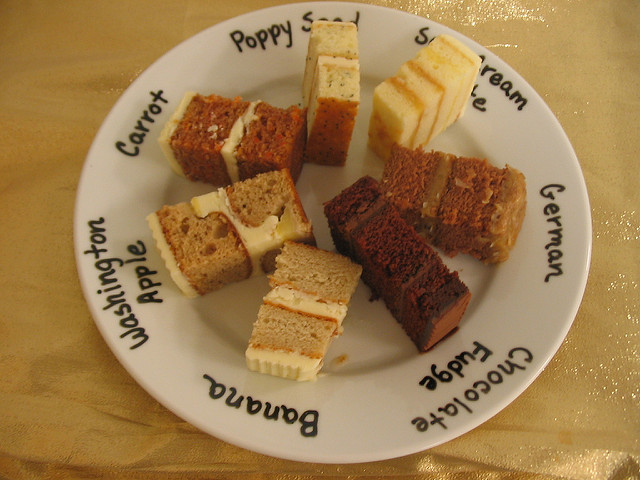 There is no secret method to this.  I will tell you what it takes.  You should have a knowledgeable representative to meet with the couples.  This person needs to bring the excitement and the sincerity to this meeting.
This person will need to sell themselves and create a like-able factor for the clients that will make them want to book with the company. Being prepared, knowledgeable, and have a love for catering will show the clients you enjoy what you do and deliver when it comes to their special event.
Catering Tasting Policy
To be prepared, you must set a catering tasting policy for the consultation and menu tasting.  This is the form that we have created in doing so
This form has wedding tasting questions that lets the clients know what to expect as well as lays out the guidelines and etiquette on how we do these.
We prefer to do our tastings on Tuesdays, Wednesdays, & Thursdays.  Primarily since most of our bigger catering business is done on Fridays & Saturdays.  In some occurrences, exceptions and flexibility may have to be made.
Wedding Tasting Cost
Whether you want to charge for the wedding tasting will be up to you. We don't charge for this unless they are bringing more than 4 guests.
We feel that this enables us to book more tasting which in turn, helps us book more weddings overall. However, there are many companies that charge for this.
Another thing you could do is a group tasting. Maybe designate one or two days of the month where you invite all your prospects who you are working with. This would be more efficient but maybe not as effective because it would lose the personal touch.
The Wedding Food Tasting
Once you get the date set and know what foods are being prepared, the next step is preparing for the consultation.  For this we use a couple tools.
We use a questionnaire
Pictures from past events that show our work
Linen samples
Dinnerware samples.
The questionnaire that we use is to gather information on the event to help us get the client the most accurate quote.  First, we gather the basics…names, contact information, event times, location, how many guests, etc.
We also like to ask how they heard about our services.  This help us to track how they know about us (expos, word of mouth, reputation, referrals, etc.).  As we get deeper into the questionnaire we want to learn about the clients and the feel of their wedding.  We ask about wedding colors, the theme, the overall look, information on centerpieces…we want to know their vision.
Next, we move into their needs beyond the menu.  Do they need tables and chairs? Do they need linens?  Would they like for us to provide a quote on those needs?  We also ask them about additional services such as bar-tending, bar-ware, mixer packages, and coffee service.
We try and offer many services for different reasons.  One reason is to make things easier on the client by being all inclusive.  This means they can deal with far less vendors.  Another reason is the more services you offer the more money you can make on the job itself.
This is where pictures and samples come into play.  With these consultations and menu tastings you are trying to appeal to the senses of the guests.  I like for them to be able to look at pictures and items, touch the plates & glassware, smell the food, & taste the food.  If you can hit on all the senses, then you are giving the guest a very well rounded experience.
Once we determine these needs, we discuss the possible menu and the thoughts they have in that area.  During this meeting, we have a cook preparing their menu selections.  As we get towards the end of the questionnaire the cook starts presenting the appetizers to the guest and then brings out their dinner plates.  While they eat, our representative excuses themselves for 15-20 minutes to give the guest some privacy to discuss their meal.
We encourage questions and comments, so we leave a pen and a blank sheet of paper for them to write anything down that they like.
After about 20 minutes or so.  Our representative will follow up with the guests to ask them about the meal.  Typically going over their likes, dislikes, or any questions they may have.  From that moment, we can secure a menu for their quote.
Conclusion
The best thing you can do is build a positive relationship and give them an experience that your competitors won't.  We aim to separate ourselves from the pack with these.
If they do another consultation and/ or a menu tasting, we want them thinking about how much better ours was.  It takes the right individual and a good product to succeed in this process.  It also takes time and money to do this for your potential clients.  Spending 50-100 dollars in food and labor is totally worth booking a wedding catering from $4000 – $15000.